Home of commission free, information rich salespeople.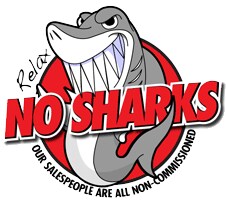 WE don't allow sharks on our showroom!  
Most salespeople in our industry get paid a percentage of the dealership profit.  Thus, the more they "make" on you the more they keep (We call this "The Sins of Commission"). Our salespeople are
salary based

with customer service and volume incentives (nothing to do with profit everything to do with customer service).  This allows them to simply focus on YOUR NEEDS and WANTS and NOT on your pocketbook.
Don't see a particular vehicle, click on CarFinder and complete the form. We will gladly inform you when a matching car arrives. Want to see a vehicle in person, Get Directions to our site, or give us a call. We look forward to serving you!